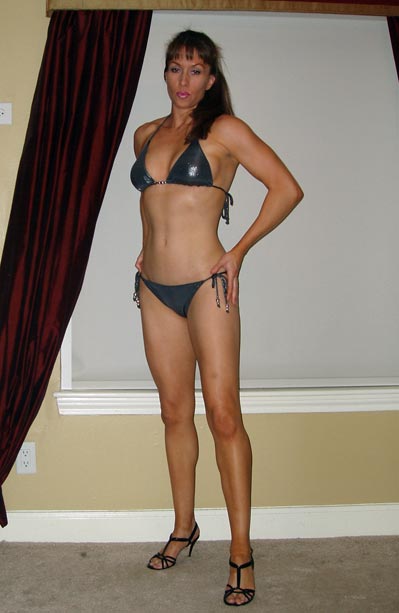 I'm proud to say that for the past year and a half, I've been a part of the dynamic group of ladies that call themselves "Cathletes". And, I can't believe what all I've accomplished in such a short amount of time.
In January 2010, I decided it was time to shake up my workout routine. I wanted to start lifting heavy weights. I knew there was no where else to look but to Cathe's DVD's. I began with the Gym Style, Slow and Heavy and 4 Day Split Series and did them in various rotations for almost a year. Then I decided it was time for something bigger- STS!
I had looked at STS many times, but concluded it was too hard for me-there was no way I could lift weights that heavy. I am thrilled to say that I completed my first rotation in June 2011 and am on week #2 of my second rotation! I was hooked from the first workout and loved the challenge that each phase presented. The microload gloves were a fan tastic idea for increasing weight increments by just a pound or two and the band work left my totally fried. Plyo Legs workouts were downright fun, I loved the familiar moves from the HIIT workouts!
During this time I also decided to get back into stepping and the first workout I tried was the cardio from Body Max 2. Soon after, I was on to Low Max, Athletic Step, the step portions of 4 Day Split, Cardio and Weights, Low Impact Circuit, Cardio and Weights, Imax 2 and finally, the one I had been waiting for….Imax 3!!! It took a lot of patience, practice, pausing, watching and replaying, but I have nailed them all. And, I used to think that Cathe's step choreography was too hard for me!
What makes this an even bigger accomplishment is that almost 4 years ago, I had a benign brain cyst removed. I unexpectedly had a seizure in September 2007 and after a cat scan and MRI I learned that I had an egg sized cyst in my brain. At first my neurologist thought it could be shrunk with meds which was just fine by me, but later on she determined it was larger and deeper than she thought and advised me to see a neurosurgeon. I was put on anti-seizure meds which I still take and probably will for the rest of my life, but cause me no side effects. This was the first time in my life (and first surgery!) that I had a health issue that was beyond my control.
I went in for surgery in December 2007 and the 7 hour procedure was a success-the cyst was removed, and it wasn't coming back. The surgeon concluded that I was born with it, it had grown large enough to put pressure on my brain, thus triggering the seizure. I was not allowed to drive or exercise for one month post-op, but exactly one year after I was back at my routine of light weights/high reps combined with the elliptical. I continued that routine until I began working out exclusively with Cathe in January 2010.
In 2009, I began doing Core Max and Kick, Punch and Crunch and loved Cathe f rom the start! I wanted to try her other workouts, but I thought they were just too hard for me! I haven't had any complications from my surgery, other than 2 seizures-one in 2009 and one in January of this year. They were most likely caused by scar tissue from my continuing to heal. Actually, I was planning to begin STS on January 31, but my body had other plans- I had a seizure the day before. I waited until my MRI came back clear and gave my body more time (but still worked out) and began STS in March 2011.
I have definition in my arms like I've never had before and I have the body type that is very hard to put on muscle. Every workout is a miracle and although there are times that i get frusturated that I can't lift as heavy as Cathe does (and don't we all!), I never take for granted the surgery that i had and how things could've turned out. I look forward to every workout with Cathe. She and her crew are my early morning workout buddies . I feel like I'm working out with my best girlfriends! If i had to name a favorite Cathe DVD, I couldn't because each one is my favorite and I have a growing collection of them-Athletic Step, Cardio Core Circuit, MMA Boxing, Kick Punch and Crunch, Slow and Heavy, Gym Style, Core Max, 4 Day Split, Low Max, Imax 3, Imax 2 +Cardio and Weights, Boot Camp + Muscle Endurance, Drill Max, Butts and Guts, Low Impact Circuit, Body Max 2, Hiit, High Step Challenge, Ab Circuits and of course, STS! Thank you Cathe for pushing me and helping me realize my full potential! I hope to meet you someday!