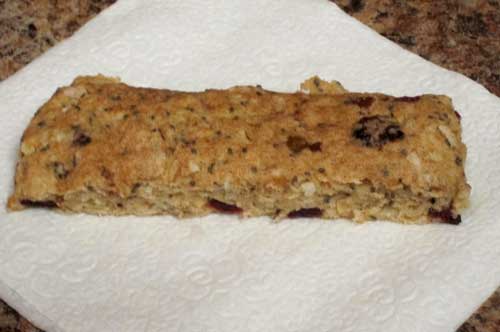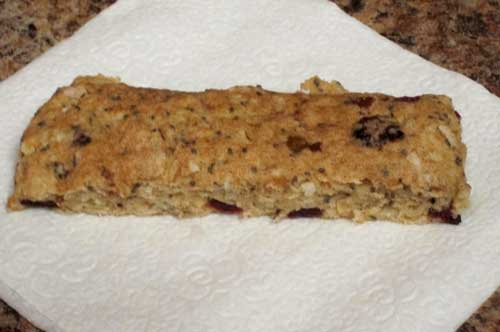 Ingredients
1 1/2 cups flour
1 cup rolled oats
1/4 cup packed brown sugar
1/3 cup flaked coconut
1/3 cup almond slivers
1/2 cup dried cranberries
2 Tbsp chia seeds
2 tsp baking powder
1/4 tsp salt
1/2 cup coconut oil
1/2 cup skim milk
2 tsp vanilla extract
2 Tbsp sugar and 1/8 tsp cinnamon (optional, see note)
Directions:
Heat oven to 350. In a large bowl, combine dry ingredients. Stir in coconut oil until well incorporated.* Stir vanilla extract into milk in measuring cup before adding into mixture. Add to bowl. Gently knead dough a few times. Place dough onto a cookie sheet that has been sprayed with cooking spray. Roll out into a rectangle approximately 1/2″ thick. Slice into 20 bars. Bake for 15-17 minutes.
*Working with coconut oil can be a little tricky. It is an oil at temps greater than 76* and a solid at cooler temps. I refrigerate my oil so it is a solid when I use it for this recipe. I mix my dry ingredients and oil with my sure it is totally mixed in. You can use it in liquid form and stir the ingredients with a spatula or spoon and get hands, making the mixture crumbly. The heat from my hands softens the coconut oil and I am able to make the same effect.
**To give this recipe a more dessert/cookie feel, LIGHTLY sprinkle the top of the bars with cinnamon sugar.
Send Us Your Healthy Recipe:
*Help us build our community by submitting your healthy recipe today. If your submission is selected for our "Weekly Healthy Recipe" featured in our Weekly Newsletter you will also receive a $100 gift certificate that also may be used at www.shopcathe.com (presale items excluded). | Submit Your Recipe |