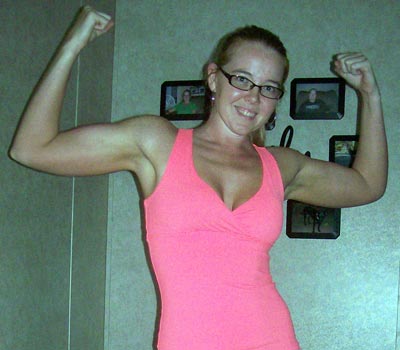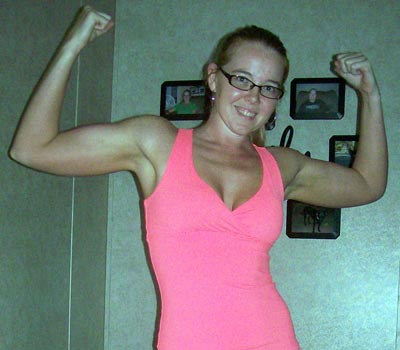 I have been dieting on and off for many years. I joined gym after gym, bought product after product with no results. But this past November, my life changed. I stressed to my husband how important losing weight and getting back to "me" was. I was starting to have health problems and I just was not happy with me. I felt awful. I was excessively overweight and unhappy.
My husband has always been very supportive…but this time he told me for every 2 pounds I lost there would be a present under the Christmas tree. "Pounds for Presents" This may sound crazy…but for the people that know me, I love Christmas!!!! So, I started with cardio. One hour a day, Walking on the treadmill, then increased to jogging, then increased to 1 hour before work and 1 hour after dinner. I was
losing pound after pound and feeling great. But, I then hit a plateau and was looking for something to help bust through. That is when I found "Cathe". I purchased the entire Low Impact Series and did the Low Impact Rotation twice. I was amazed and come to love Cathe. I looked forward to working out every day. I had lost 25 pounds by Christmas, but I was now addicted to Cathe and still losing. I have now lost 60 pounds and feel absolutely amazing. I now own almost every Cathe DVD and am waiting on the new Xtrain series. I a lso have created my own personal gym in my home. I just love it! Today, I do cardio every morning before work and then I do a Cathe workout in the evenings.
As for my diet, well I didn't change much because I ate pretty healthy. The only thing I did cut was soda. I prepare all my snacks for the week each Sunday afternoon. I also post in the kitchen our menu for the week. This saves me on time. I work full time, so fitting in cooking healthy and exercise can be time consuming.
This is my lifestyle…healthy eating and fitness!
I have Cathe to thank for my amazing transformation. Also, I could not have stayed motivated without my forum friends. Thank you to all for giving me my life back! Cathe is my personal trainer for life!!!! Thanks again.