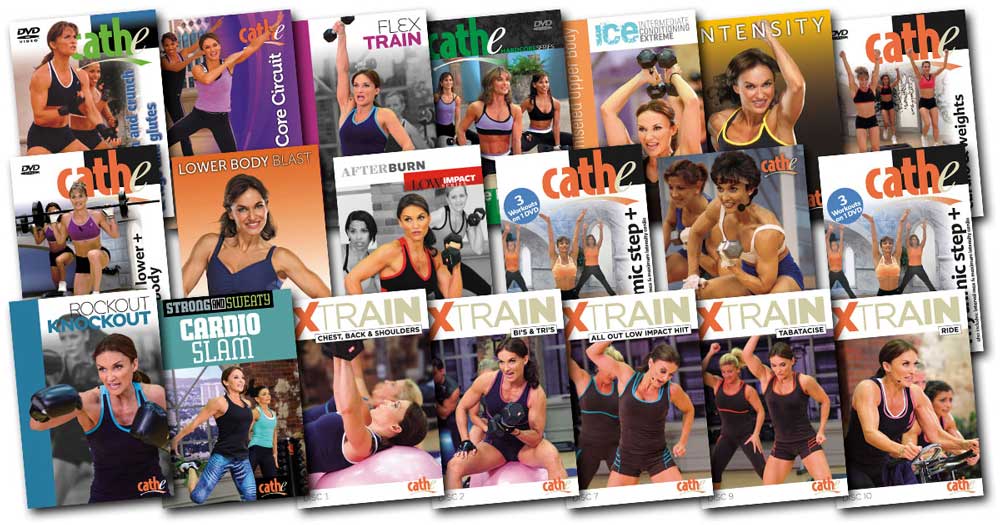 Hi Everyone!
Enjoy the variety of cross training workouts this month.  Substitute something comparable of your choice if you don't have any of these workouts.  Have a great Holiday Weekend!
OnDemand QuickSelect ™ For Cathe's September 2018 Workout Rotation
Note: If you're an OnDemand subscriber make sure you're logged into your account and then just click on the links in the monthly workout rotation to instantly launch and view your video. Monthly workout rotations are normally published on the first Monday of each month.
WEEK ONE
Monday… Flex Train
Tuesday… All Out Low Impact Hiit
Wednesday… Rockout Knockout
Thursday… Pyramid Upper Body
Friday… Cardio Slam
Saturday… Pyramid Lower Body
Sunday…OFF
WEEK TWO
Monday… Rhythmic Step
Tuesday…Legs and Glutes (Body Blast Series)
Wednesday… Kick Punch and Crunch
Thursday… Chest, Back, Shoulders (XTrain Series)
Friday… IMAX2
Saturday…Bi's and Tri's (XTrain Series)
Sunday…OFF
WEEK THREE
Monday…AfterBurn
Tuesday…RIDE Or Solid Cardio Of Your Choice
Wednesday…Lower Body Blast
Thursday… Chiseled Upper Body
Friday… Tabatacise
Saturday…Muscle Max
Sunday…OFF
WEEK FOUR
Monday…Strong Legs and Abs (Pure Strength Series)
Tuesday…Maximum Intensity Cardio  
Wednesday… Back Biceps and Abs (Pure Strength Series)
Thursday…Intensity
Friday…Chest Shoulders and Triceps (Pure Strength Series)
Saturday…Cardio Core Circuit (Shock Cardio Series)
Sunday…OFF
*You can view all of Cathe's monthly workout rotations at | Click Here |