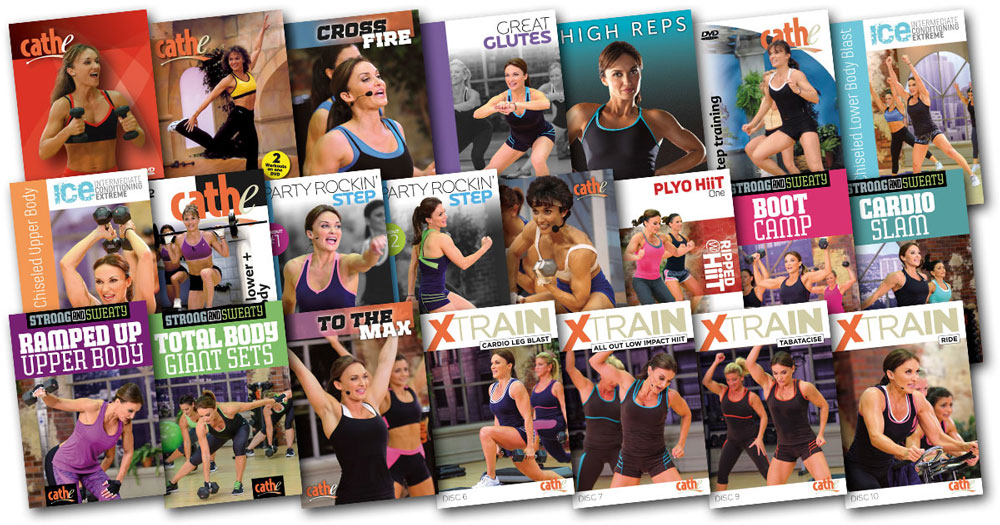 Hi Everyone!  There is quite a lot of variety and muscle confusion in this months June 2019 workout rotation.  You'll be mixing old and new workouts, muscle endurance and strength workouts, long and short cardio workouts, etc.  Enjoy the variety and intensity!  Eat well, stay hydrated and sleep well!
OnDemand QuickSelect ™ For Cathe's June 2019 Workout Rotation
Note: If you're an OnDemand subscriber make sure you're logged into your account and then just click on the links in my June  2019 Workout Rotation to instantly launch and view your video. Monthly workout rotations are normally published on the first Monday of each month.
WEEK ONE
Tues…Cardio Leg Blast
Thurs…Strong & Sweaty Bootcamp
Sun…Off
WEEK TWO
Mon…To The Max
Tues…Ramped Up Upper Body
Wed…Cross Fire
Thurs….Great Glutes
Fri…Cardio Slam
Sat…Hi Reps
Sun…Off
WEEK THREE
Mon…Cardio Kicks
Tues…High Step Training
Wed…RIDE (or solid cardio of choice)
Thurs…Strong & Sweaty Giant Sets
Sat…Tabatacise
Sun…Off
WEEK FOUR
Tues…Butts and Guts
Thurs…Plyo Hiit One plus Bonus Abs One
Sun…Off
*You can view all of Cathe's monthly workout rotations at | Click Here |