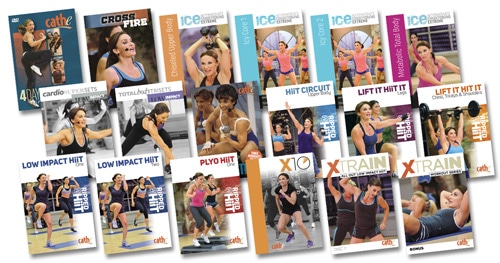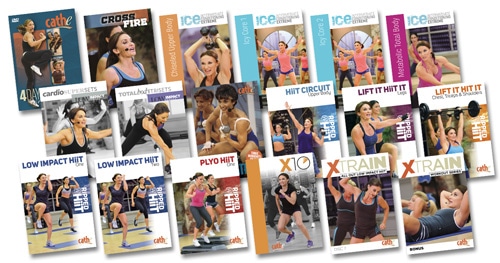 Hi Everyone!  This July we are keeping our workouts short and easy since vacations and weekend getaways are so popular through the summer months.  So get in and get'r done and get on with the day.
OnDemand QuickSelect ™ 
Note: If you're an OnDemand subscriber make sure you're logged into your account and then just click on the links below to instantly launch and view your video.
WEEK ONE
Monday…Ripped w/Hiit Low Impact 1…plus Cross Fire Bonus Core
Tuesday…4DS Kickbox…Cardio portion only
Wednesday… Ripped With HiiT/Lift It Hiit It Legs
Thursday…Ripped With HiiT – Lift It Hit it Chest Triceps Shoulders
Friday….Pure Strength Back and Biceps
Saturday …XTrain All Out Low Impact Hiit
Sunday…OFF
WEEK TWO
Monday… Ripped w/Hiit Low Impact 2…Plus Icy Core 2 (from ICE)
Tuesday….4DS Boot Camp (Cardio Only)
Wednesday….Cardio SuperSets
Thursday…. Ripped w/Hiit Upper Body Circuit
Friday….X10 Step
Saturday…. Low Impact Series/Total Body Trisets (Lower Body only)
Sunday….OFF
WEEK THREE
Monday… Ripped w/Hiit Plyo Hiit 1 ….Plus XTrain Bonus Core 1
Tuesday…4DS Higher Intensity Step (cardio only)
Wednesday…X10…Cardio Blast
Thursday…X10…Low Impact
Friday…ICE Chiseled Upper Body
Saturday …. Low Impact Series/Total Body Trisets (Lower Body only)
Sunday….OFF
WEEK FOUR
Monday… Ripped w/Hiit Low Impact 2 …. Plus Icy Core One (from ICE)
Tuesday…4DS Lower Intensity Step (cardio only)
Wednesday…. Metabolic Total Body (from ICE)
Thursday… X10-Hi-Lo
Friday….Ripped w/Hiit Upper Body Circuit
Saturday …. Rppied With HiiT/Lift It Hiit It Legs
Sunday…OFF