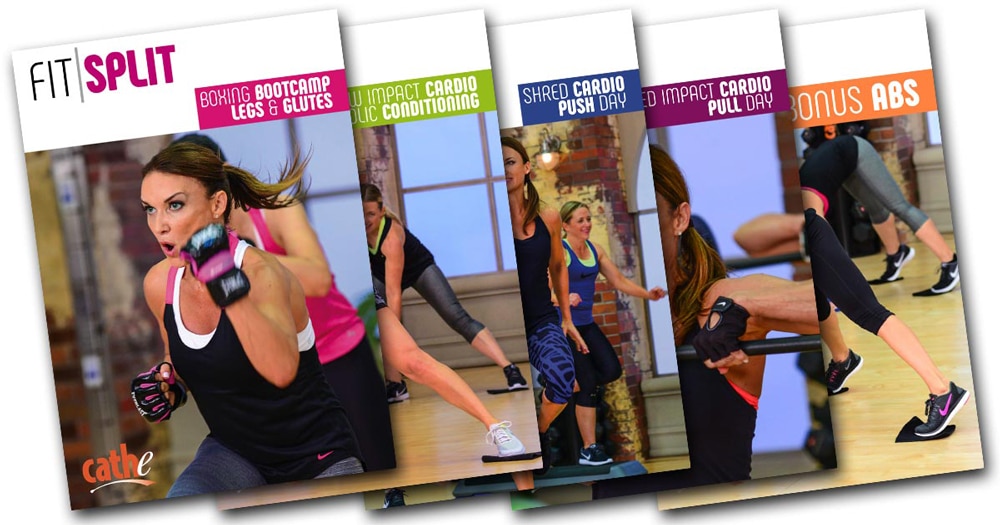 Happy New Year Everyone! Since so many of you ordered the Fit Split workouts I thought I would do a solid Fit Split rotation this month. If you don't have the Fit Split series, please enjoy one of my past rotations. We hope to have this in the user's guide with links later this week.
OnDemand QuickSelect ™
Note: If you're an OnDemand subscriber make sure you're logged into your account and then just click on the links below to instantly launch and view your video. In some cases you will need to select the chapter starting point ( i.e., Push, Pull Day, etc.) for the Fit Split workouts below after clicking on the link.
Week 1
M:          Boxing Bootcamp / Legs & Glutes
W:          Mixed Impact Cardio (Double It premix optional)
T:            Push Day
F:            Off
S:            Low Impact Cardio / Metabolic Conditioning
S:            Shred Cardio plus Bonus Abs
Week 2
M:          Mixed Impact Cardio / Pull Day
T:            Boxing Bootcamp  (Double It premix optional)
W:          Legs & Glutes plus Bonus Abs
F:            Off
S:            Low Impact Cardio / Metabolic Conditioning
S:            Mixed Impact Cardio plus Bonus Abs
Week 3
M:          Boxing Bootcamp / Legs & Glutes
T:            Push Day
W:          Shred Cardio (Double It premix optional)
F:            Off
S:            Low Impact Cardio / Metabolic Conditioning
S:            Mixed Impact Cardio plus Bonus Abs
Week 4
M:          Shred Cardio / Push Day
T:            Mixed Impact Cardio / Pull Day
W:          Low Impact Cardio (Double It premix optional)
T:            Boxing Bootcamp / Legs & Glutes
F:            Off
S:            Metabolic Conditioning plus Bonus Abs
S:            Shred Cardio plus Bonus Abs