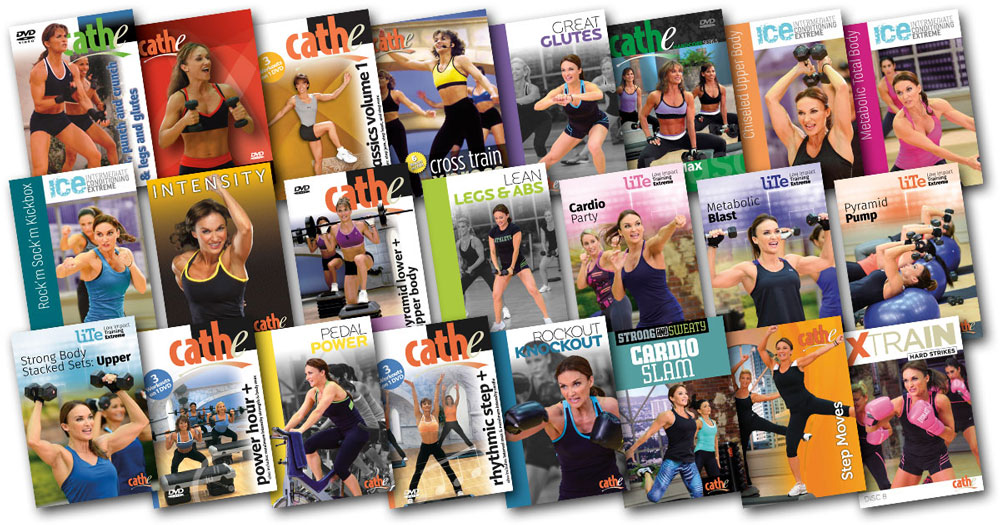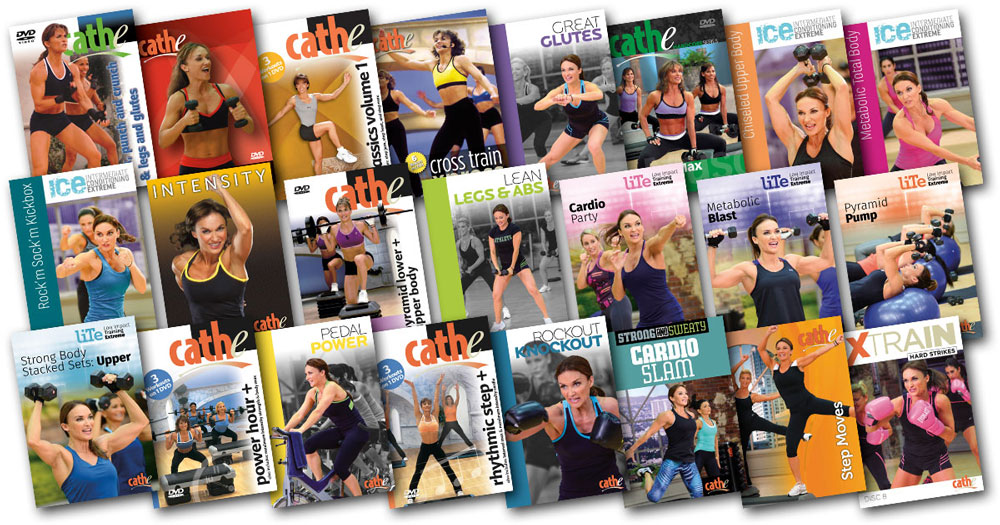 Hi Everyone!  I hope you're enjoying your summer.  This month (August 2019 Workout Rotation) we are going to continue to shake up our workouts with a mixture of older (with a few newer) workouts.  Some are longer, some shorter, some cardio, some strength, and some endurance.  This will keep your heart healthy and your muscles on fire!   Eat clean, stay hydrated and sleep well!
OnDemand QuickSelect ™ For Cathe's August 2019 Workout Rotation
iOS, Android, Apple TV, and Roku Cathe OnDemand Users: The Cathe August 2019 Workout Rotation is now available in your app. Just click on the rotation icon in your app to view this months rotation.
Web Browser Users:  Note: If you're an OnDemand subscriber make sure you're logged into your account through your browser and then just click on the links in my August 2019 Workout Rotation to instantly launch and view your video. Monthly workout rotations are normally published on the first Monday of each month.
WEEK ONE
Mon…Rhythmic Step
Tuesday…Leaner Legs
Wed…Rock'm Sock'm
Thursday…Chiseled Upper Body
Sat…Metabolic Blast
Sun….OFF
WEEK TWO
Mon…Step Max
Tuesday…Great Glutes
Wed…Hard Strikes
Thursday… Pyramid Upper Body (Intensity Series)
Fri…Cardio Slam
Sat…Maximum Intensity Strength
Sun….OFF
WEEK THREE
Mon…Step Moves
Tuesday…Lean Legs and Abs
Wed…Rockout Knockout
Thursday…Strong Body Stacked Sets: Upper
Fri…Cardio Party
Sun….OFF
WEEK FOUR
Mon…Intensity
Tuesday…Butts and Guts
Thursday…(Pyramid Pump Upper Body…Lite Series)
Fri…Pedal Power (or solid cardio of choice)
Sat…Muscle Max
Sun….OFF
*You can view all of Cathe's monthly workout rotations at | Click Here |