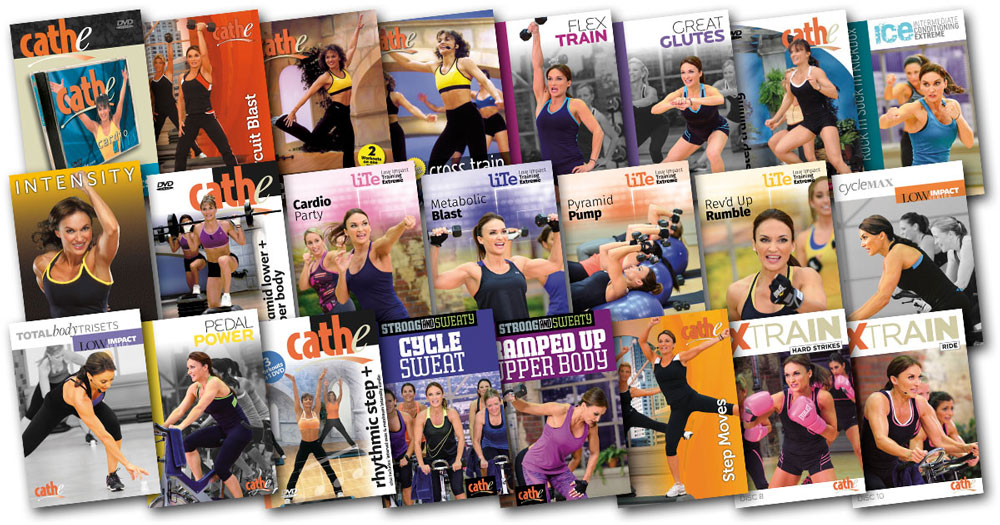 Hi Everyone!  This month's rotation  (April 2019 workout rotation)provides a nice blend of longer and shorter workouts, upper and lower body workouts and circuit and cardio workouts.  This variety provides awesome cross-training benefits to keep your muscles challenged and responding positively.  Eat clean, stay hydrated and sleep well!
OnDemand QuickSelect ™ For Cathe's April 2019 Workout Rotation
Note: If you're an OnDemand subscriber make sure you're logged into your account and then just click on the links in my April 2019 Workout Rotation to instantly launch and view your video. Monthly workout rotations are normally published on the first Monday of each month.
WEEK ONE
Monday…Circuit Max
Tuesday…Intensity
Wednesday…High Step Training
Thursday…Ramped Up Upper Body
Friday…Cycle Max (or other solid cardio)
Saturday…Rev'd Up Rumble plus Calorie Crush
Sunday…Off
WEEK TWO
Monday…Flex Train
Tuesday…Power Max
Wednesday…Leaner Legs
Thursday…Total Body Trisets Upper Body
Friday …RIDE (or other solid cardio)
Saturday…Cardio Party plus Calorie Crush
Sunday…Off
WEEK THREE
Monday…Circuit Blast
Tuesday…Step Moves
Wednesday…Great Glutes
Thursday…Pyramid Upper Body
Friday …Pedal Power (or other solid cardio)
Saturday…Rock'm Sock'm
Sunday…Off
WEEK FOUR
Monday…Metabolic Blast plus Calorie Crush
Tuesday…Rhythmic Step
Wednesday..Pyramid Pump (Lower Body)
Thursday….Pyramid Pump (Upper Body)
Friday …Cycle Sweat (or other solid cardio)
Saturday…Hard Strikes
Sunday…Off
*You can view all of Cathe's monthly workout rotations at | Click Here |