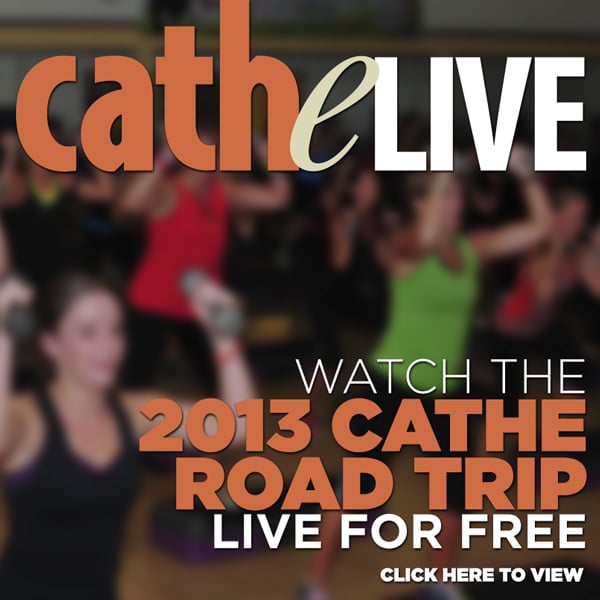 Here is Our Cathe Broadcast Schedule
Saturday • July 27, 2013
8:45–9:45 a.m.
Third Class with Cathe • Studio A
Format: 60 Minutes of Step
10:15 – 10:55 a.m.
Fourth Class with Cathe • Studio A
Format: 40 Minutes of Boot Camp
2:30–3:30 p.m.
Fifth Class with Cathe • Studio A
Format: 60 Minutes of Total Body Sculpting
No worries…no jumping while our food's digesting!
8:15–8:45 p.m.
15 Minutes Of Fame • Filming Studio
Workout with Cathe and cast on her set for a quick minute and give Cyndi (one of our photographers) your camera so she can capture your lifetime memory for you. Don't worry, you won't be up there alone, other Cathletes will join you, too.
8:45–9:45 p.m.
Zumba® Dance Party • Studio A
Guest instructor Gladys (born and raised in Puerto Rico and one of our top instructors at Four Seasons for 25 years) shares her Zumba® moves and grooves…the hottest fitness craze sweeping the nation. If you don't want to Zumba®, no worries, just enjoy the party. The latin passion Gladys exudes while performing is worth the entertainment itself. Wear sneakers and comfortable workout attire.
Sunday • July 28, 2013
7:00–8:00 a.m. Sixth Class with Cathe • Studio A
Format: Spotlight Workout
This class ends with your participation…join Cathe in the middle of our big circle workout and share your one minute favorite move with us all!
We will also have some unannounced events and perhaps a spin class, so keep checking our Facebook Fan page and follows us on Twitter.