In June of 2006, my then fiancé told me that I should start running. It would be good for my lungs and heart and overall health. I had never been a runner, and not really much of an exerciser either, but I decided I would give it a try. When I started out, I could barely make it half a mile before I "died". I didn't give up, though. When we got married a month later, we went running for a mile on our honeymoon, and I could barely make it. I was begging him to let me stop, but he just said, "We're almost to a mile,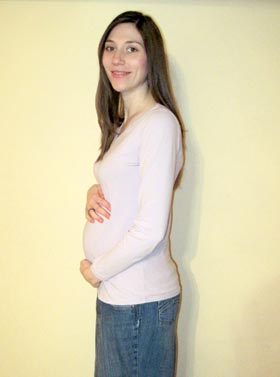 you can make it!" And I did! So for a while I ran a mile, then upped it to a mile and a half, and then later, by going a little slower (I had no concept of slow or fast at the beginning, I just ran, lol), doubled that and went three miles without stopping. Somewhere along the line, I fell in love – with running. =) We lived overseas for 8 months shortly after we were married, and my husband wouldn't let me run by myself, but we'd go together once or twice a week and go to the gym usually three times a week. When we returned to the US, I started running more frequently. One of my best friends also introduced me to step aerobics, which she used to supplement her running regimen in the winter. Shortly after that, my sister-in-law introduced me to Cathe, and I loved her stuff immediately!
For the first few months after we got married, I was on a birth control pill, and I gained a quick 10 pounds or so. Even though I only was on the pill for maybe 5 months, the weight stayed with me even after I quit taking the pill. Despite running pretty regularly, the weight never came off. Around Christmastime 2007, I decided that I was fed up with the extra weight I was carrying, and I started working to get it off.
I changed my diet a little bit, and I worked out more. I would run three miles and then do 10-15 minutes of step aerobics after my run. I especially liked my Cathe DVDs that I had acquired. Slowly but surely, the weight eventually came off. It took me around 7 or 8 months, but I finally got to my goal. This time really developed in me a love for running and working out faithfully! I was able to maintain that weight for 2 years by faithfully working out and not bingeing. I continued running, and I also did a lot of step aerobics to supplement in the winter when the weather was not so conducive to running outside. I was able to enjoy the foods I like and not gain weight. \
In the spring of 2009, a friend asked my husband and I if we wanted to run in a 25K race. I had wanted to, but it was only 5 weeks until the race, and I had only been doing step aerobics alternately with running a little over 3 miles. We decided to go ahead and do it, and we trained for and ran the 25K race, and I finished without stopping. It gave me great confidence, and I wanted to try a marathon later that year. We started training for a marathon to be run in October. In July, I found out I was pregnant with our first child. We were extremely excited, but I was "nervous" about all that weight gain and how would my body respond to pregnancy, and would I be able to lose the pregnancy weight, ya know? =)
With the go-ahead from my doctor, we went ahead and continued training and ran the marathon. I was 17 weeks pregnant and in the b est running shape of my life, and I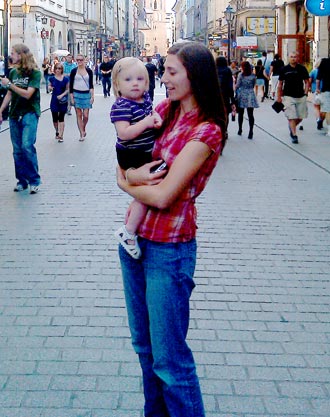 was able to finish this race also without stopping (except for the couple of trips to the "ladies' room", lol, being pregnant will do that to ya). With that awesome start to my pregnancy, I was able to keep up a good workout regimen throughout my entire pregnancy. Shortly after the race, the weather started getting colder, and I turned to my step aerobics once again to carry me through. Around 30 weeks it just got harder and harder to run, and so somewhere around 32 weeks I cut out running altogether and just did DVD workouts. I am going to say that Cathe carried me through the end of my pregnancy.
I was doing 30 minutes of step blast a couple days a week up until the very end. I did some step aerobics program (not sure which one I did) the day before our daughter was born. I only gained 16 pounds my entire pregnancy. I had a very healthy and uncomplicated pregnancy, and although I'm sure some of it is part ially due to genetics, I also contribute a lot of it to working out (and, of course, the strength and health God gave me to work out). Our daughter was born healthy as could be, and I had an all natural, relatively swift delivery. My recovery was very quick, and I ran two miles two weeks after delivery. (Shhhh…don't tell my doctor, lol. Actually, I wouldn't recommend it as I didn't feel in top-notch running condition until about 4 weeks after delivery, but I soooo wanted to start back up!) I very quickly returned to my pre-pregnancy weight, and even more weight came off. I could never get past my original goal before, but then with nursing and working out, the weight just came right off.
I was able to keep that weight off as well. It fluctuated within about 3 pounds, but that became my norm. In the summer of 2011, I got pregnant again. This time, I was again nervous (and still am, lol) about the weight gain, the body changes, the difference of a second pregnancy compared to a first, and the wondering whether the weight will come off after the baby is born. I wasn't training for any big race this time, but I was still running and working out 6 days a week. I started this pregnancy about 10 pounds less than I started the first one. Even though I've gained a little bit faster because of that, at 28 ½ weeks pregnant I am only 3 pounds more than I was when I got pregnant with our first child. We are in the middle of winter, so my workouts have come indoors. I still run on the treadmill 3 days a week, but that is starting to get harder. I also do step aerobics 3 times a week, and it is helping so much! Cathe keeps me motivated to go on the days that I really don't feel like it! I know that my health is better because I'm still working out. My goal is to again make it to the very end of the pregnancy still working out. I've been researching and checking out more of Cathe's DVDs so that I will have more variety when I have to stop running in a few weeks and not get bored, and I'm excited to try more of her stuff!
The before picture is of my daughter and I sightseeing just before I got pregnant, and the after picture is me at 26 weeks this pregnancy.
My daughter also loves to "exercise" with Cathe. When I get my step out, she helps me get it all ready, and she excitedly stands on the bench. When I start the DVD, I tell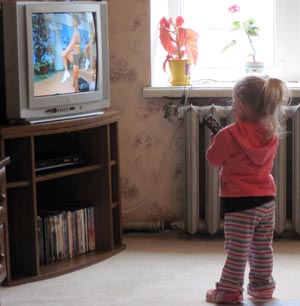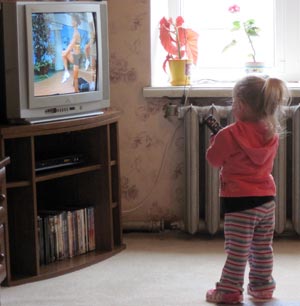 her it is mommy's turn to work out, and she can work out when mommy is done. She gets off and reads books or plays with toys until I am done, and when I finish I tell her it is her turn. She immediately and excitedly drops whatever she is doing and goes and stands on the bench and watches the DVD. Sometimes she'll get up and down a few times like she is really working out. It is so cute! I hope she always shares my passion and love for working out! =) Thanks, Cathe, for producing great DVDs that allow us to work out hard at home and have a great time doing it!!