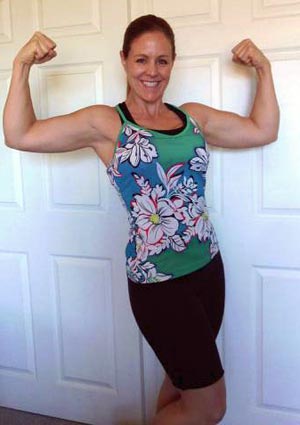 I've been working out with Cathe for two years. Over the first four months, I achieved my weight loss goal of thirty pounds. Once I met my goals, I continued working out with Cathe to improve my cardio vascular health as well as stave off depression. I tried many of her workouts, but was limited because my lower back, knees, and ankles were tender after some of the high impact exercises. I mostly used the step DVDs because I could modify some of the high intensity moves like doing a 7-3-3 repeater instead of a starburst 15 times. I had a weekly rotation of Low Impact Circuit, Step Moves, Low Max, Travel Fit, and Rhythmic Step. When the LIS went on preorder I was thrilled! I knew it was time to increase my fitness level and the LIS DVDs looked like they would help with my new goals by adding weight training and giving me some variety. I was so excited to be able to add new workouts that I watched every clip that was posted, sever al times!
I tried to do the rotation that Cathe posted using the LIS. I started with Afterburn, appropriately named since my muscles burned big time with DOMS for three days, but quickly found out that these workouts were more intense and worked different muscles than the step routines I was used to! Because the LIS was more challenging, I decided to use the new DVDs alternatively with the step DVDs I already owned. Over the three months, I have added many of the LIS workouts to my rotations and have had several pleasant plateau-breaking effects.
No more jiggle middle! Even working out six days a week, I still had a little "squishy" middle that I could feel jiggle, but not after adding the LIS. The longer abdominal workouts would put too much stress on my lower back and neck, and I often stopped half way through or had to break them up over several workouts. Since many of the LIS workouts incorporate abdominal work throughout, I am doing much more abdominal strengthening and toning.
Bye bye back fat, hello muscles! Afterburn, Athletic Training, Slide and Glide, and Total Body TriSets have given me the ability to work more weight and resistance training into my weekly workouts. The Total Body TriSets workout is by far my favorite workout with weights! I now have defined biceps. One morning while pulling my hair up, my daughter exclaimed with wide eyes, "Mom! Look at your muscles!" In the beginning, I curled 12lbs the first set and 10 lbs the second set. Now I'm up to 15lbs for both sets.
My cardio vascular endurance has improved! Many of the high intensity workouts meant high impact and ultimately contained jumping jacks, plyo-jacks, or power squats. Any jumping would cause fatigue and discomfort in my knees and mild incontinence due to weaker Kegel muscles – those little drops are so embarrassing. (Moms, you know what I mean.) I love how I can now push myself hard benefiting from the high intensity workouts without dealing with these unpleasant side effects and limitations. The LIS workouts definitely get my heart rate revved up. I have to pause my player several times during some of the workouts, but as I continue to use them, I'm pausing less often and for shorter periods. I love the results! Before adding these workouts, the longest I could do any step routine was 45 minutes. I'm up to 60 minutes now and have even added risers for the longer routines.
I am thrilled with the variety of workouts and with the improvement in my overall fitness level. I look forward to exercising every day, even though some of the workouts still intimidate me, and know my success will continue to progress. Cathe and her team are great companions encouraging me every step of the way. Thank you, Cathe!