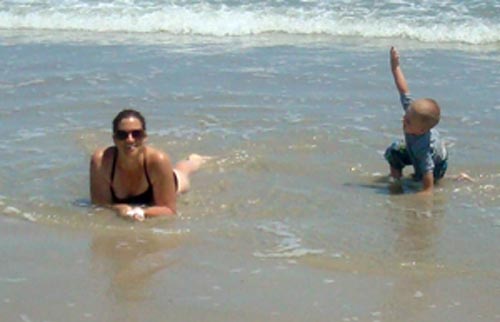 Recently I realized that I have been an avid Cathlete for nearly a decade. I remember my first Cathe videos as I transitioned up out of The Firm workouts. I had discovered fire, in a sense. I still feel that way. A new Cathe video gives me a charge like nothing else. I know that my few extra dollars spent on a quality instructor will pay off for another decade to come as I grow with the workout.
I grew up in rural Indiana without much access to a gym or other means of standard fitness equipment. Video fitness was a way for me to explore physical fitness and develop preferences. This budding interest has paid off in countless ways as I've matured into and out of career paths and motherhood. I feel like a sort of agent of Cathe. I try to turn everyone I can onto this gem of an instructor. "Beachbody fitness? Don't waste your time and money!" I still remember my first introduction to the world of Cathe. I overheard a lady at a fitness retreat (who was in much better shape than myself, despite being at least 20 years my senior) mention that she had some Cathe workouts but that they were too hard. There my journey began.
Years later I found myself a military wife stuck in the bleak landscape of 29 Palms, California. I renewed my relationship with Cathe workouts and expanded my video library. I still remember my buff husband shouting in disbelief at the difficulty level of one particular workout after I got him to join me. Butts and Guts... this was the next workout that I had to BEG him to try out with me. He has yet to accept the challenge since. I tease him about it constantly. He calls home from work and if I answer breathlessly he says only, "Cathe."
On a family vacation this past summer I found myself in the exact moment where I could impact the lives of other people in the most positive way. Discovering the plight of two distressed swimmers, I had the opportunity to perform an ocean rescue. Handing off my nine month old daughter, I had the stamina to make the swim through rough ocean water and see both victims safely returned to shore. For my efforts I was awarded the Carnegie Medal for Heroism. What an honor! Thank you, Cathe.
What gave me the ability to help these people was the sustained energy I've earned through grueling sessions with Cathe Frederich and her crew. I can say this with utmost confidence. My background as a lifeguard gave me some experience but the muscular and cardiovascular endurance Cathe instilled in me gave me the physical ability to do what I did. I may struggle the average Mom battle of eating my children's caloric food and not being active ENOUGH but fortunately when I do workout, it's quality. This is all thanks to Cathe who taught me what it feels like to work hard.
I'm currently enjoying "Intensity," but don't think I'm loyal to just one Cathe workout. The videos I purchased nearly ten years ago are still rotated and in constant use. Now that is value. I put a DVD in and my kids start jumping around with me. Whatever I pursue next in life I know that Cathe will be a part of it. In fact I'm eagerly awaiting "To the Max" and "Crossfire."