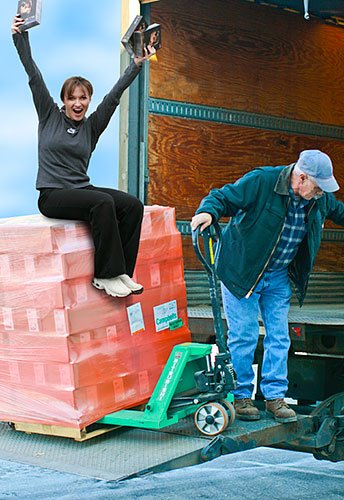 Start Flexing Your Muscles Everybody….STS is officially here! Yes indeed, it is one happy day here at Cathe Dot Com, ( ….well perhaps not so happy for the delivery man, ha), and I'm beyond thrilled to inform you that a good amount of STS DVD's are already out the door and on their way to you. What a busy day ….and it's not over yet. We have a crew working on packing orders until late tonight. Tomorrow we will return bright and early and pick right up where we left off.
Here's the scoop: The DVD's came around noon and we needed a couple of hours to unload them, do a disc check, and set them up on their "production lines". This obviously limited the amount we could ship out today, but come tomorrow, look out! We are going to make some serious headway from this point on. We will continue to have a day and night shift working on packing your boxes until every last pre-order is shipped.
We are very hopeful to have these completed by the end of the week.
Again, just a gentle reminder that Customer Service will be slow throughout the shipping period. Please be patient as we are making the shipment of the STS DVD's our utmost priority. For this reason it may be several days before you hear back from Customer Service regarding your email.
Thank you in advance for your patience and cooperation during the STS packing and shipping period.
Cathe